Film frost grains and radiative cooling of the ground
December 8th brought the first frost to the Seattle area. This doesn't mean that this is the first time this season that the ground reached 0 degrees C or lower. True, we had gotten snow in late November, though this by itself doesn't mean the ground reached 0 C because snow deposition differs from frost formation. The snow was below zero when it formed in the air, but for the rest of its existence, it could have been melting and the ground itself likely sped up the process by remaining slightly above 0 C. But in contrast with the snow, for frost to form, the ground itself must cool below 0 C.



When I used to put out some metal plates with recording thermocouples, I didn't see visible frost until about -5 C, but that was based on just a handful of measurements. Anyway, what this means is that we may have had a few mornings with some patches of ground (including anything connected to the ground) dipping slightly below zero but with no obvious frost appearing. Also keep in mind that "ground temperatures" reported at weather stations are 1.5-2.0 meters above the ground, and thus may be 5-10 degrees C warmer at night than some ground patches. Why? At night, the ground cools by radiating, and if the atmosphere is not radiating much down, then considerable cooling happens. This is why clear nights are the ones with the most frost or dew.
Anyway, here is one shot of some of this "first frost" on my car window.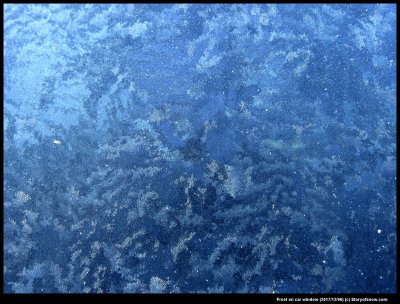 The image shows patches of different texture. These regions differ in texture because they are tiny hoar-frost (i.e., vapor-grown) crystals of differing size or orientation. That is, they stick up differently in different patches. They stick up differently because they sprouted off of a thin layer of film-frost that had a different crystal orientation. So, the patchy look comes from the different grains in the film-frost. See some of my previous posts with diagrams about this phenomena (category: "film frost"). Here is one with particularly helpful diagrams.
http://www.storyofsnow.com/blog1.php/choppy-waves
-- JN
No feedback yet