Hoar that grows down and out
It had been a continued spell of cold days and nights, the ground snow-free, the air clear and dry. No film-frost on the cars in the morning, and no spikes of hoar frost sticking up on grass or post. The only signs of ice had been the frozen pond and the needle ice, making the ground crunchy underfoot.
And yet in the woods and lawn, hoar frost still lurked.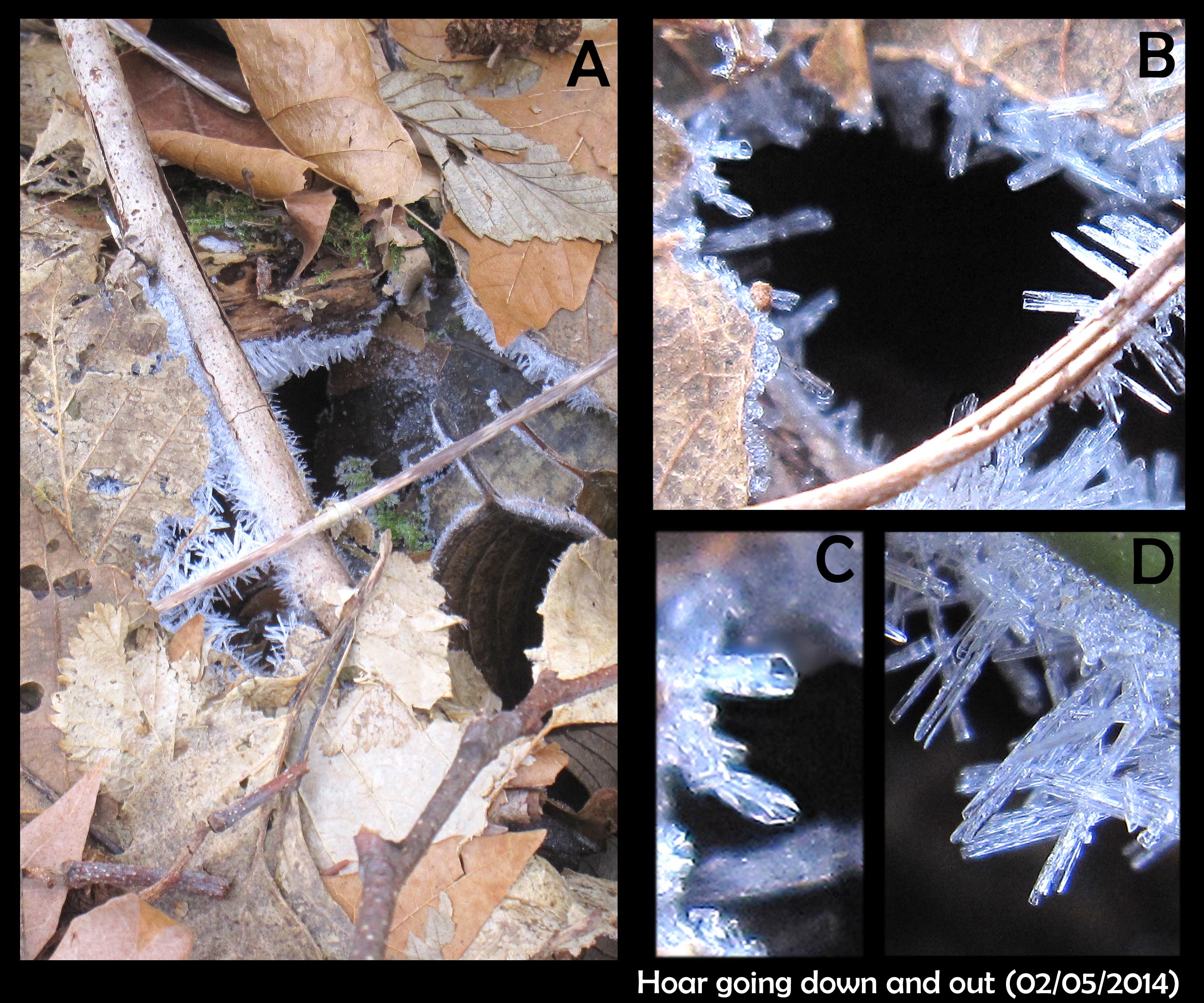 Here, in semi-protected pockets between leaf and twig, I found clusters of hoar crystals. But they grew down and out instead of upward, as if they were trying to hide. The main reason for this behavior is that only the air in these regions had enough water vapor for ice to grow. Above, the air was too dry, but below, partly under cover, the air was still sufficiently moist.
As to their shape, the crystals in image A above are sheath and scroll-like. The magnification is not large enough to see clearly, but the crystals at left in B, further enlarged in C, appear to have a scroll-like rim. All columnar forms.
How do the columnar crystals seem to "know" the direction to grow?
Ice crystals are constrained by their crystallographic directions and how quickly the different surfaces can grow. With columnar forms, the basal surface is fastest, directing the growth in one direction.
Look at image D above. Next to the stem, see the dense clumping of crystals. Their columns are pointed in many directions and initially, just after forming, all are growing. But those crystals with the column pointed down and out grew faster, and as they grew, they depleted the vapor, stunting the crystals that pointed elsewhere. So, we just see the crystals pointed down and out.
On one log, the hoar at a distance looked a little fuzzier. I snapped a shot and looked at the zoomed image.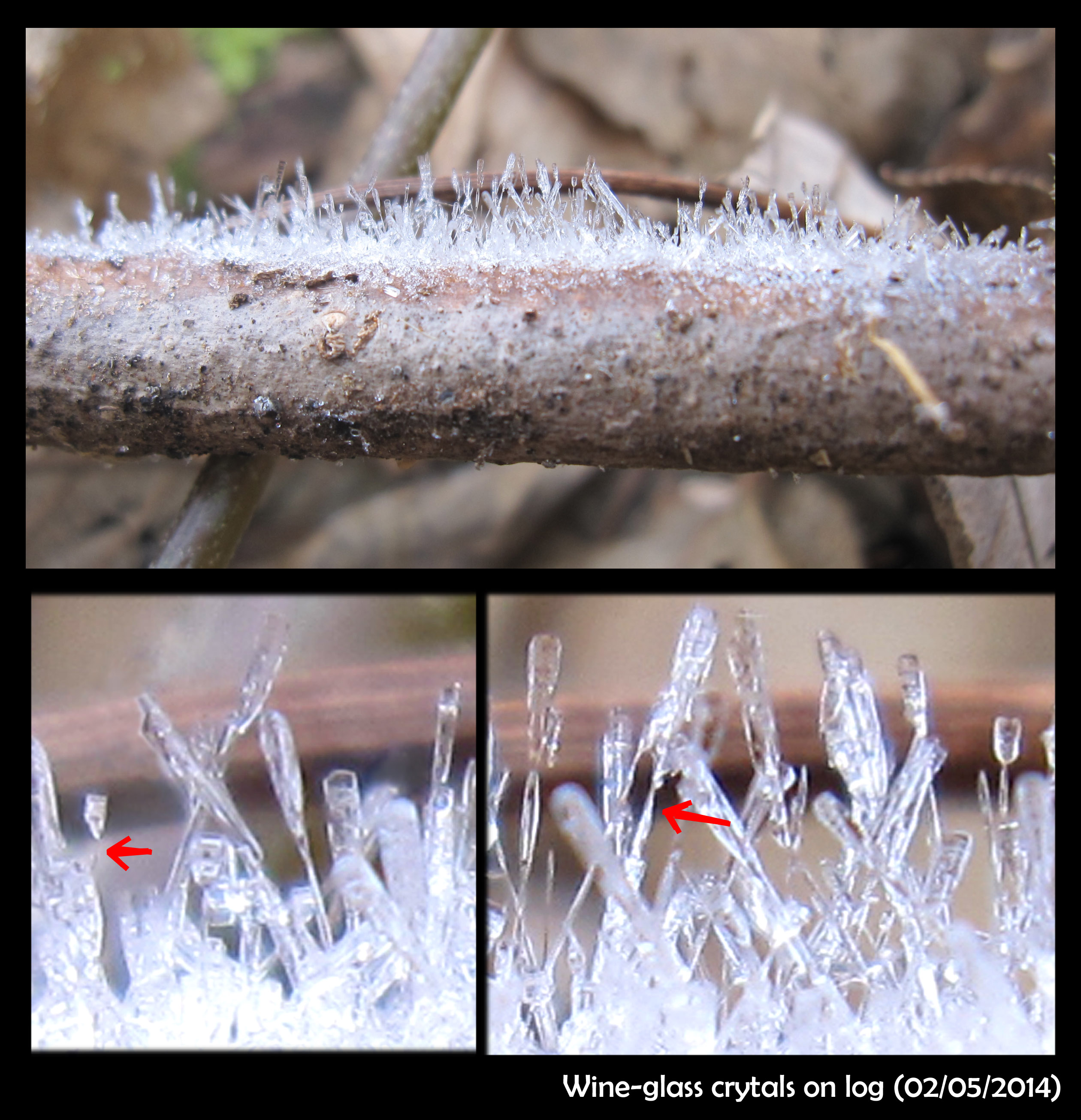 The crystals looked incredibly delicate, like wine glasses whose stems are ultra-thin. How do such thin stems hold up? In some images, such as the one at lower right (left red arrow), I cannot even discern the stem. How do they form? The fact that their stems can have bulges seems strange, as pointed out by the red arrow on the right. More about these later.
Coming back from the woods, I took a closer look at the lawn. Sure enough, even the lawn had hoar, but instead of growing on the outer blades of grass, the hoar grew closer to the ground, in semi-protected areas.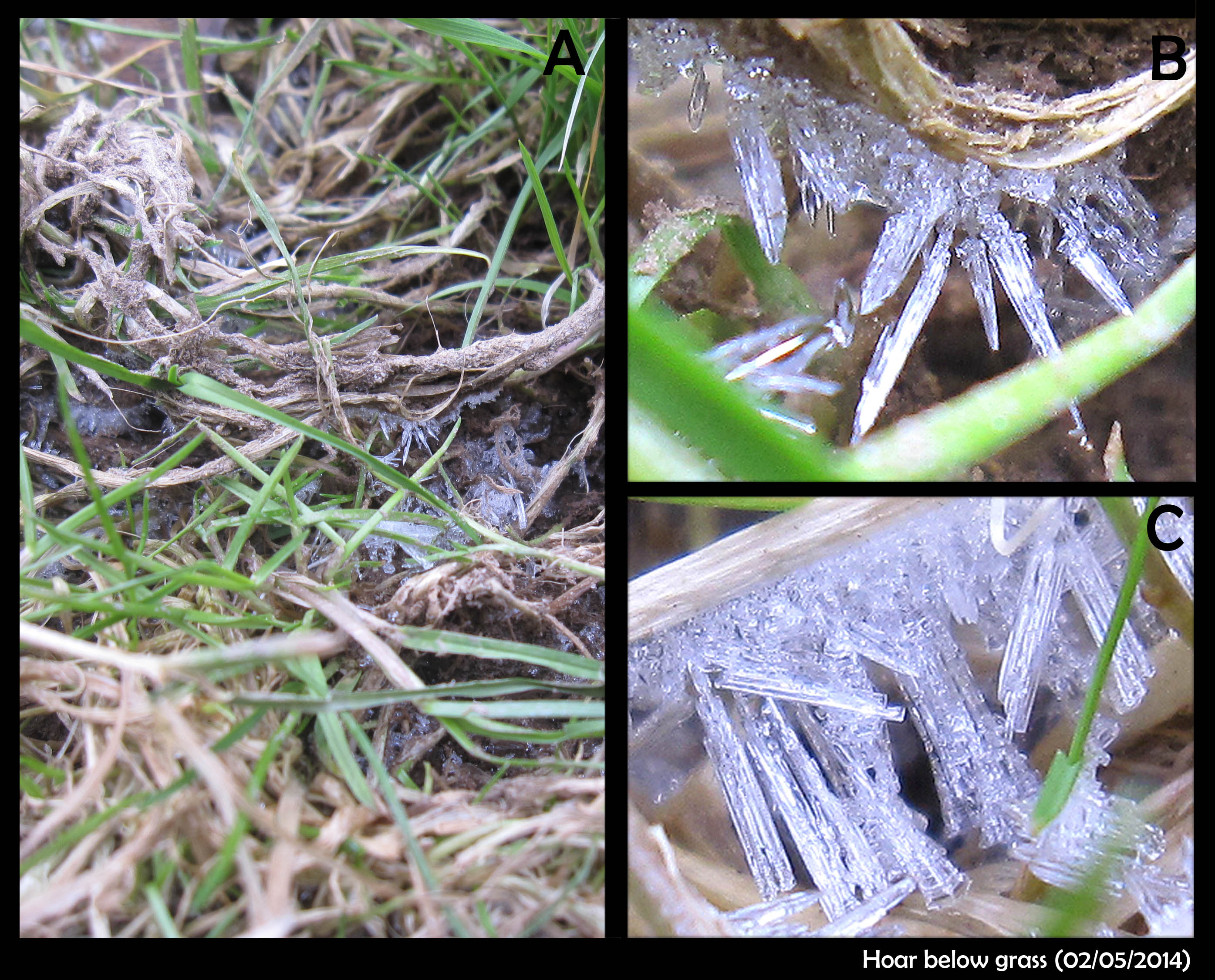 The crystals, enlarged in B, look like sharp shovels. In C, one shovel is wide and flaring. This is part of a cup form. I'll explain more about the formation of these various forms (scrolls, sheaths, shovels, wine-glass, cups) in a subsequent post.
--Jon
No feedback yet