The "Snow Candle"
If you go about 50-km northwest of Sapporo, Japan, aiming to stay on the coast, you will land in the port city of Otaru. Like Sapporo and the rest of Hokkaido, this is snow and ice country. Here in Otaru, they have a "snow candle" festival every winter. The snow candles are just partly scooped out, upside down, packed lumps of snow with a lit candle inside. (Perhaps a better name would be "snow lantern".) They make them in quantity by packing a standard-sized plastic bucket with snow, scooping out part of the center and side, then turning them upside down and removing the bucket moulding. Then they put a standard, short candle inside and light it. When they are all lit, they appear like small glowing igloos along various walkways and attract large crowds at night.

Yasuko made a mini version recently, and brought it indoors. Instead of using a bucket and standard-sized candle, she used a coffee mug and snipped birthday-cake candle.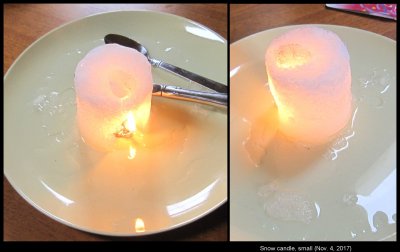 It lasted only about 15 minutes. But if you make it like they do in Otaru and keep it outside, it may last much of the evening or night.
- JN
No feedback yet