Hoared Hail and Coraline Cups
As far as I could tell, nobody had predicted hail last night, yet there it was on the ground, the largest hail I've ever seen here in the northwest. It fell on wet ground, freezing to the surface and then growing hoar columns, making the ground white and crunchy.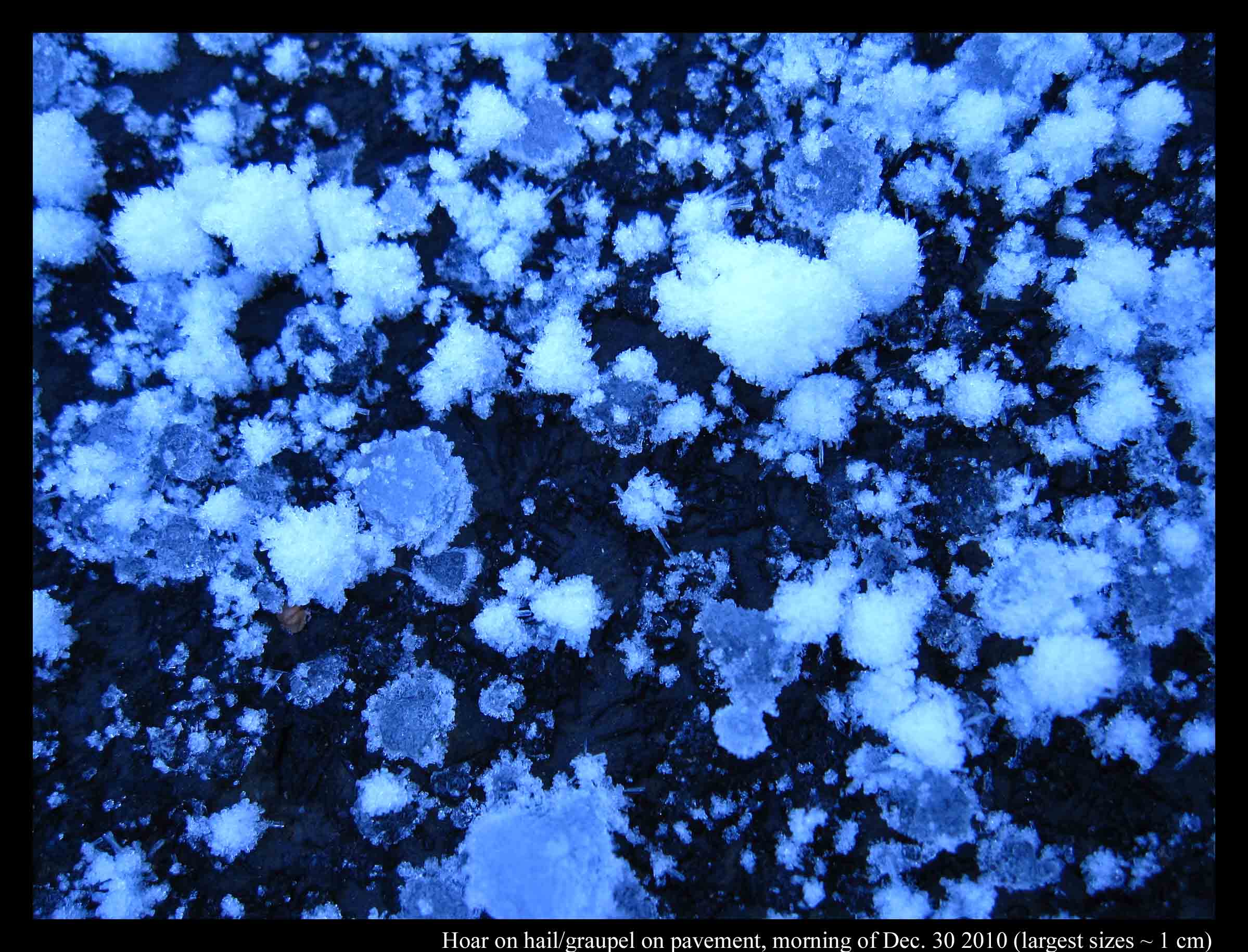 The parking lot in front of our apartment was covered in ice, mostly clear (i.e., "black") ice, yet, because of the ice lumps, it was not slippery under my boots. I kept expecting to slip, but never did. On the curb, where it was a little colder, the hoar was much thicker, looking like an inch of snow.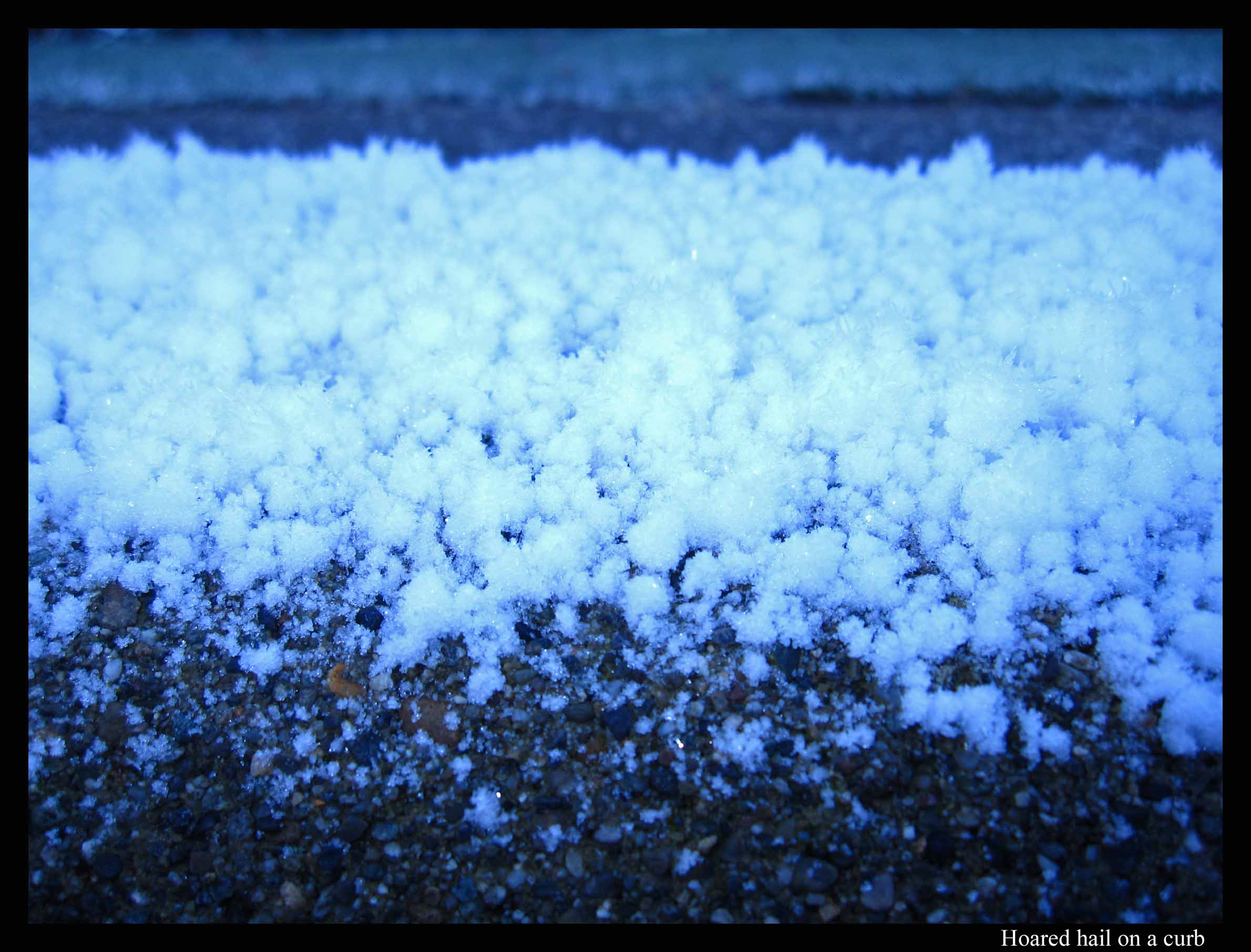 Same story for the tops of cars, where it had been coldest. The temperature was such that the hoar was mainly columnar. Columnar hoar, indeed all hoar, grows just like snow – when an excess of water molecules deposit from the vapor – and yet columnar hoar tends to develop more in the "cup" (C1b) and "scroll" (C1i) forms (see my Feb. 14 posting for the meaning of the symbols).
But unlike the pencil-like columnar forms of falling snow, these cups and scrolls grow broader at their growing end, even branching out into a pattern a bit like coral.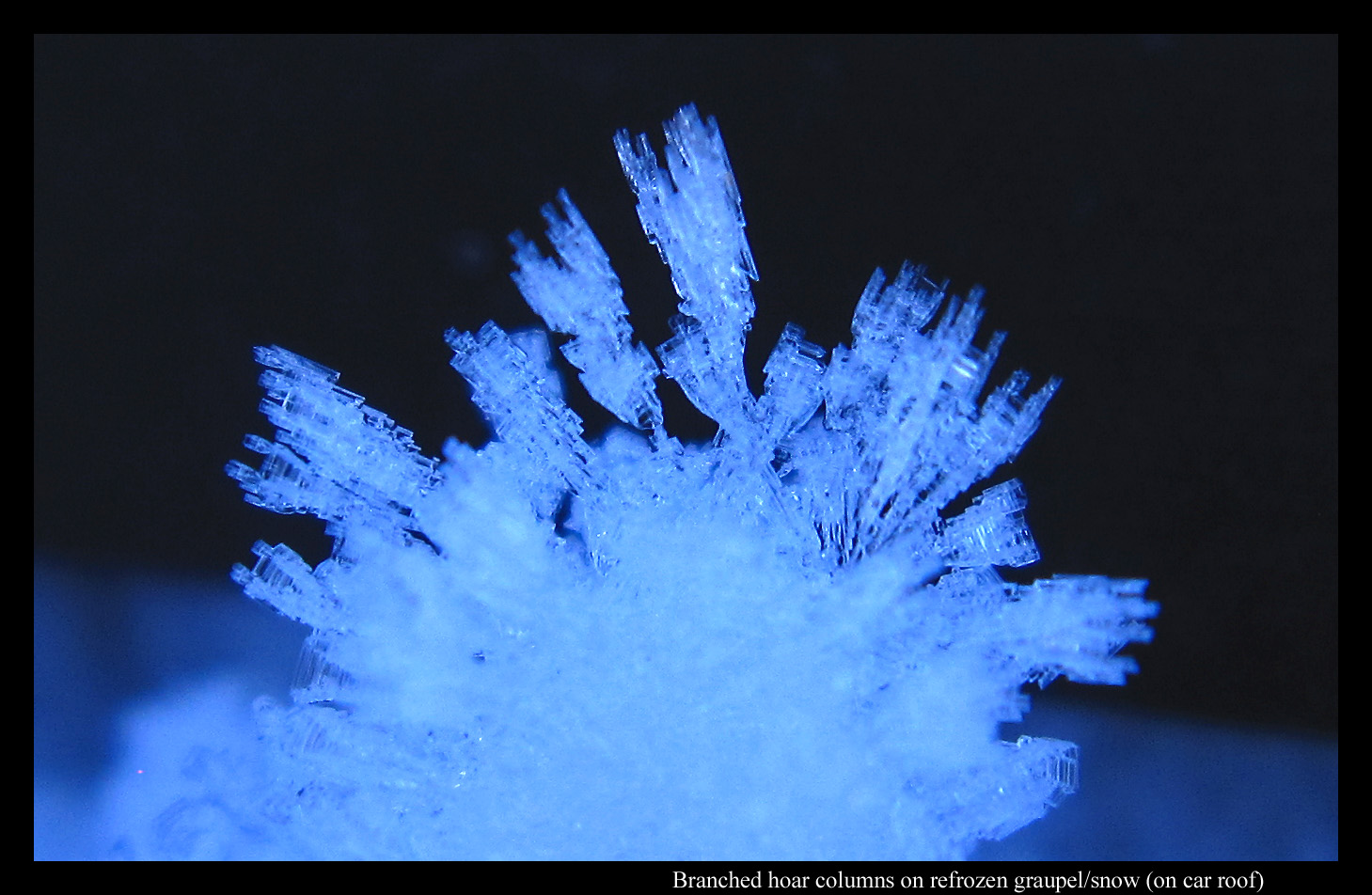 And if you look closely at the above shot, you will see that the "branches" grow along the same axis as the crystal from which they sprout. (For the above shot, I put a piece of black cloth in back to show the boundaries more clearly.) Such branching contrasts with that for tabular crystals, such as the ones on the familiar six-branched snow crystal.
Why do the columns widen at their growing ends, thus making a cup-shape, why do the cup rims sometimes curl into scrolls, and why do they branch out? I suspect the reason for all three (though not a complete reason) is that the humidity next to the growing crystals is very high – higher than that surrounding the typical column form that drops from the sky. Unlike the latter case, where the humidity is too low for the prismatic faces to grow outward, at least at any rate near that of the basal, here both the basal and prismatic faces grow at comparable rates. Such growth behavior also depends on the temperature, for reasons that still elude us.
- JN
No feedback yet