A Few More Lighting Experiments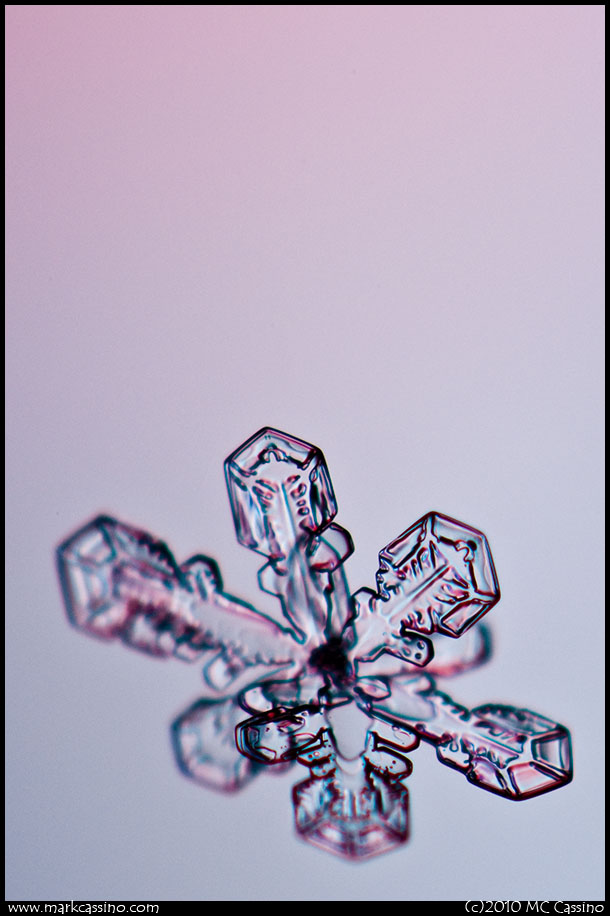 I'm continuing to work on taking snow crystal photos to the next level. It's funny because in past years I tried different approaches to lighting, and none of them worked. So it was a surprise when I picked up a couple of spare C9 holiday lights, dropped them on the flash, and suddenly saw a whole new range of colors in the snow crystals.
I tried similar things in the past, but they just haven't worked. Then I realize that I've been fiddling with the exact placement of the flash beneath the coffee can that holds the glass plate full of snow. Adding the colors, combined with the way the light from the flash was bouncing around inside the coffee can, did the trick. Insanity has been described as doing the same thing over and over, hoping for a different result. But sometimes it turns out, you're not really doing the same thing and you may have learned something new, even if you don't know it.
Now, if only the snow would cooperate. Here are three shots from last night. The lake effect bands have been running to the west of Kalamazoo these last few days. Every now and then one drifts our way and brushes against the city.  If I'm lucky I get half an hour, maybe a little longer, before the band of falling snow wanders back. Unfortunately, the snow that has been falling hasn't been the most photogenic.
The crystal at the top of this post landed on its side. I knew that it would exceed the camera's depth of field, but I liked how it looked in the finder. It's easy to imagine the crystal falling through the atmosphere. Below is a  simple crystal that has a 'spur' (as I'll call it) growing perpendicularly out of the center. I see many of these - I'm not sure why they form. The crystal is also spotted with rime.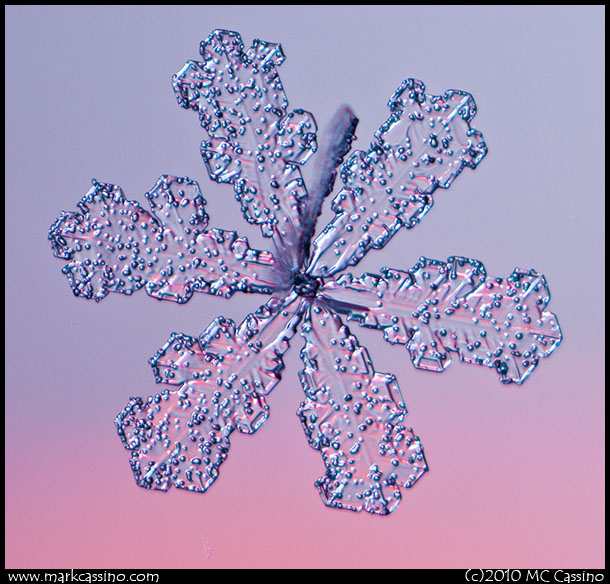 Lastly - here's another double crystal, similar in basic structure to the one I posted on 12/27, but with much greater difference in size between the two crystals that make it up. As always, click on an image for a larger view.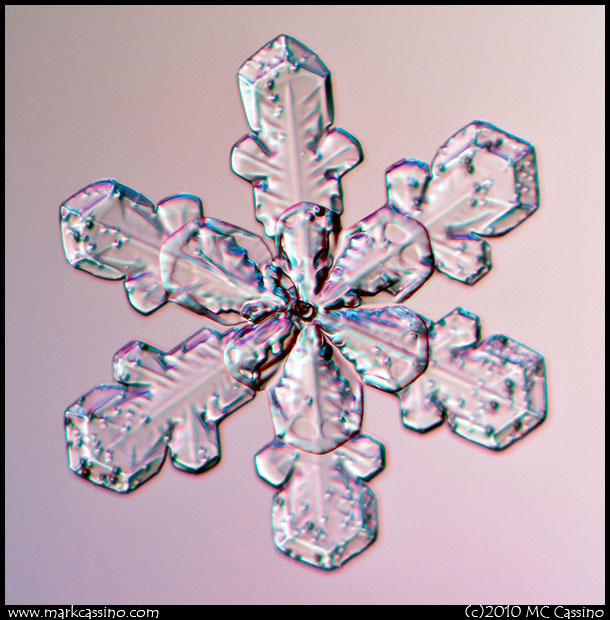 Let's hope for more snow, soon!
Mark
No feedback yet