Category: "Rime ice"
January 14th, 2017
To understand snow formation, one must know a little about clouds. 
Q: What is in a cloud?
A: Air, dust, vapor, droplets, and often, ice. 
Q: How much air? How much liquid water? How much ice?
A: The answers will probably surprise you. See my short 20-min presentation below. I gave this recently to the Bellingham, WA Snow School. (23 slides, but due to file-upload-size restrictions, I had to put them into three parts below, 10 slides, 6 slides, 7 slides.)
Snow, rain, and weather affect everybody, yet how many of us learned in school even the most basic facts about precipitation in school?
Q: Who first realized how ice grew in a cloud?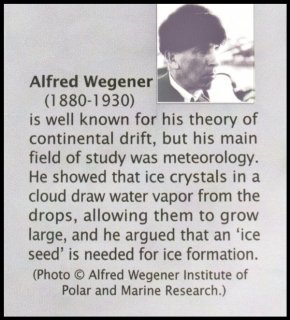 As described in my presentation, he realized this by observing frost on the ground. 
Q: Who first realized how Alfred's theory was intimately connected with rainfall?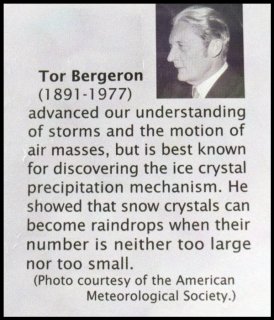 Tor discovered this by observing fog in a mountain forest, and like Alfred, applied some of his physics knowledge. 
In my presentation, I discussed Alfred Wegener, the roles of the different cloud components, and briefly how the ice, once formed, takes on its strange shapes: 
First 10 slides (with blue text added to account for the things I said during the talk):
http://www.storyofsnow.com/media/blogs/a/Jan2017/snowschool_annotated1t10.pdf?mtime=1484585328
Next 6 slides:
http://www.storyofsnow.com/media/blogs/a/Jan2017/snowschool_annotated11t16.pdf?mtime=1484585328
Last 7 slides:
http://www.storyofsnow.com/media/blogs/a/Jan2017/snowschool_annotated17t23.pdf?mtime=1484585309
Later, I will show specifically how the ice gets arranged into all these strange shapes. 
- JN
November 23rd, 2014
Here's a reed of some sort, with a glaze of clear rime on the side facing a creek. How did the clear ice get there, and what is the white ice on top of it?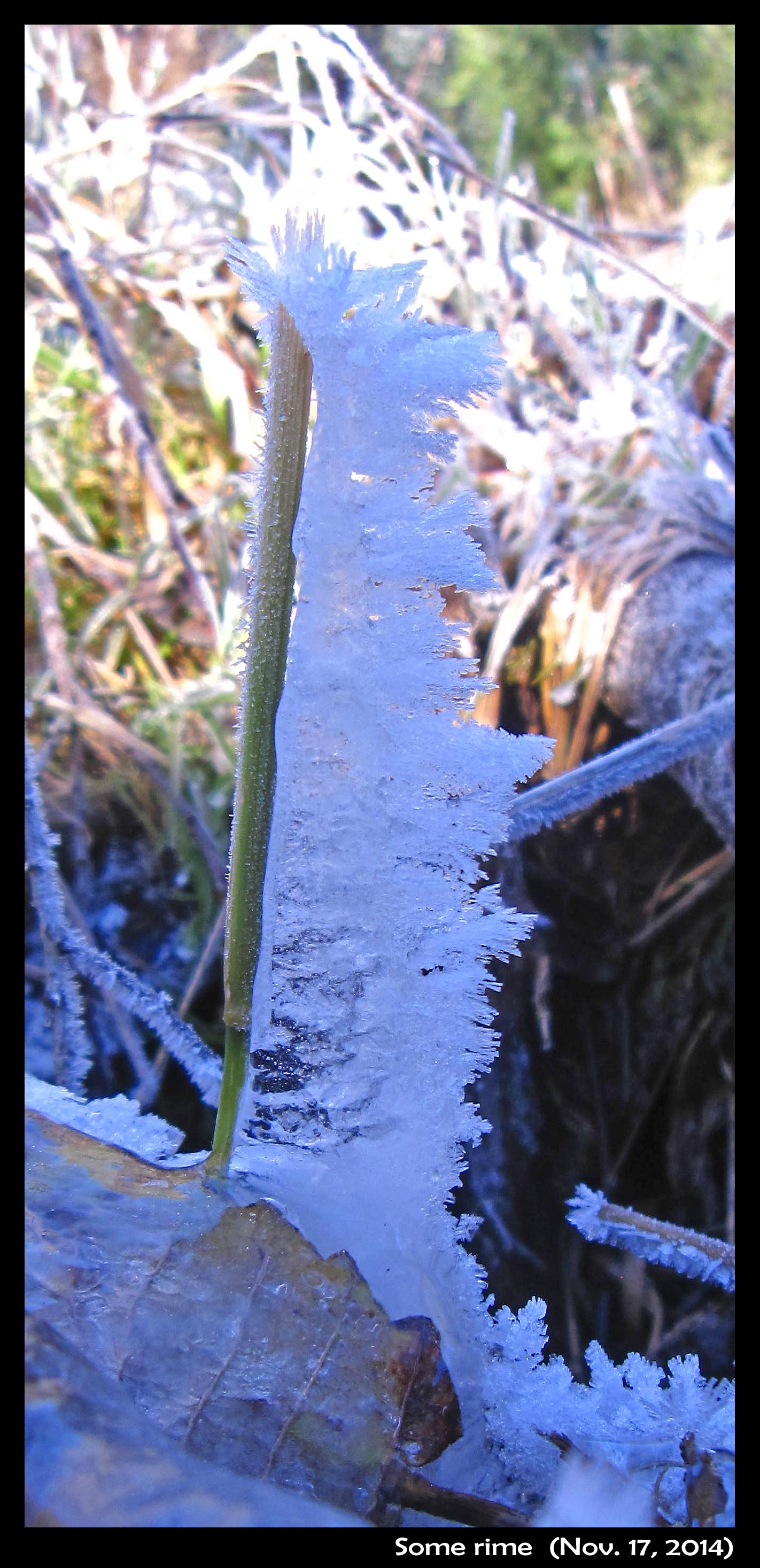 The fact that the clear ice is just on the side facing the creek indicates that the ice came from droplets blown off the creek. To have the ice buildup just on the side means that the droplets must have frozen soon after landing, but slow enough to spread out and fill gaps.
So, the droplet must have been larger than typical cloud droplets, and the temperature must have been within a few degrees of freezing. Clearly, the flowing water must have been above freezing, so the droplets must have cooled to below zero while drifting through the air.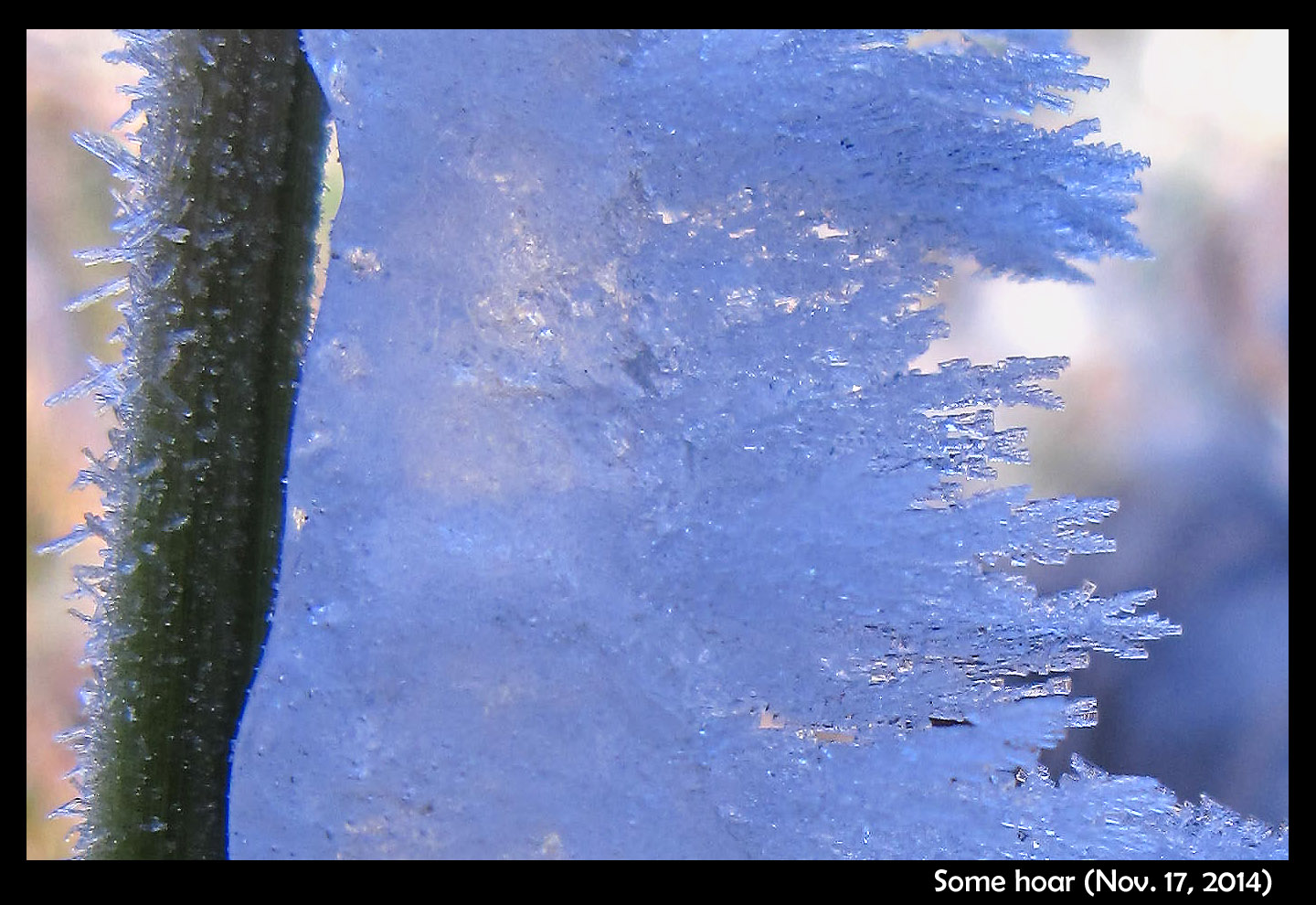 A closer shot shows that the outermost ice, the white ice, is hoarfrost. Only hoarfrost would show the flat crystalline facets. Definitive proof that that ice grew out of the vapor that was blowing by. You can also see some hoar on the other side of the reed.
--JN