Category: "Science publishing"
October 10th, 2019
After a long period of work (on and off), we have an accepted paper on the corner pockets we discovered (see here). But during the writing stage, I thought about collecting earlier ideas I had developed during my correspondence with Prof. Akira Yamashita in Japan, and as a result, the paper ballooned. Originally, it was to be a short note about the pockets, but in the end, the central theme was instead the new notion of the lateral (or sideways) growth of crystal facets. Actually, one type of lateral growth had been long known, sometimes called "facet spreading", but we collected together three types of lateral growth and describe how two of them are particularly useful for explaining a wide range of observed features on snow and ice crystals.


But before describing some of our findings, recall that all science publishing costs money. Almost always the research grant pays the page charges. However, our grant ran out three years ago, and this paper is particularly expensive (estimate: $3600) because we needed many pages to argue our points and show how lateral growth can explain many growth forms. If you can contribute, we will gladly send a signed copy of the paper acknowledging your help. Or, if you have just enjoyed some of the articles on this blog and would like to help me continue, you can contribute here as well. Here is the link:

https://www.gofundme.com/f/publish-a-research-paper-on-snowcrystal-formation

The paper in its submission format is 58 pages: (as always click on the image to enlarge)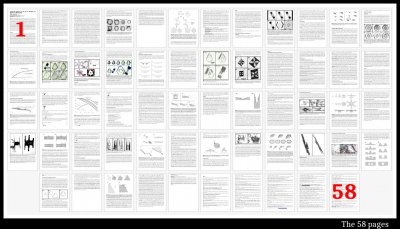 The published format will reduce the length a little (mainly shrinking the figures), but it will still be much longer than the standard 10-15 page paper.
One key figure to help explain some of these "lateral" concepts appear in Fig. 2, reproduced below. This figure shows a just-frozen droplet, which is often called a "droxtal". Crystal facets have appeared for eight faces, shown as the shaded flat regions in the top sketches.