November 24th, 2009
On Friday, Decmeber 4, I'll be participating in the December Art Hop at Nature Connection - a cool nature oriented gift store located in Downtown Kalamazoo. I'll be there to sign copies of The Story of Snow, and will also have photo note cards and matted prints.
The Art Hop is from 5 - 9 on December 4, and Nature Connections is located at the corner of Lovell and Burdick. See you there there!
- Mark
November 14th, 2009
On November 14 I joined Coolidge J. Bligh and Gary Cialdella at Kazoo Books - a great local / independent book store - for a local author's book signing. I was there with The Story of Snow and appreciate all the folks who came by for a copy.
It was also great to catch up a bit with Gary Cialdella, whose collection of urban landscape photos called The Calumet Area: An American Place was recently published jointly by the University of Illinois and the Brauer Museum of Art. I first met Gary almost a decade ago at a workshop with Mark Klett at the Kalamazoo Institute of Art. Gary's landscape photography is very inspiring, and if ever you tire of snow crystal photos, you should take a look at his book. It's great stuff and an inspiration to all of us who love B&W landscape work.
- Mark
June 12th, 2009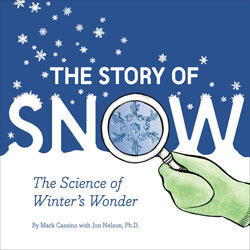 Yippie! On Monday I received an advance copy of my new book – The Story of Snow: The Science of Winter's Wonder. This project has been in the works for over a year, during which time I've been privileged to work with physicist Jon Nelson and the great people at Chronicle Books. The book will be available in stores later this year – you can read about it in Chronicle Book's catalog here.
- Mark